Finally the time has come, Nextcloud 14 was released. The distribution to the users will take some time, so you'll probably have to wait a bit longer. But when it is possible on your VPS, you can confidently update
Today I will show you the necessary adjustments after your upgrade in Plesk, when you have followed my guides to install Nextcloud. The Upgrade-Process is straightforward and not part of this manual.
Plesk Adjustments
Domain -> nextcloud.your-domain.tld -> Apache & nginx Settings:
In the Textbox Additional directives for HTTPS under Additional Apache directives you have to add the following content:
Header always set Strict-Transport-Security "max-age=15552000; includeSubDomains"
Header set Referrer-Policy "strict-origin-when-cross-origin"
Header set X-Content-Type-Options "nosniff"
Header always set X-Frame-Options "SAMEORIGIN"
Click "OK" and go to PHP Settings of your domain.
in section disable_functions you have to delete opcache_get_status and insert none.

Don't forget to adjust the upload_max_filesize and post_max_size values.
You have finished in Plesk.
Database Adjustments
Next you have to do recommended work on your database. Login to shell and execute the following commands (adjust path and user)
sudo -u pleskuser php /var/www/vhosts/your-domain.tld/nextcloud.your-domain.tld/occ db:add-missing-indices
sudo -u pleskuser php /var/www/vhosts/your-domain.tld/nextcloud.your-domain.tld/occ db:convert-filecache-bigin
Finished on shell and everything looks fine: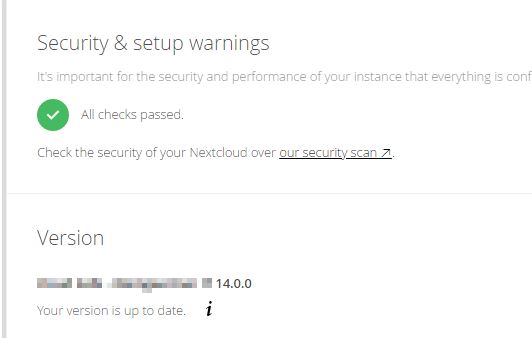 Happy Nextclouding with Plesk! 🙂